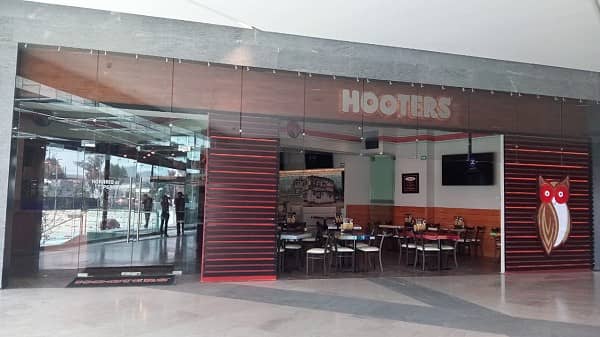 Hooters of America, LLC, announced the 10thHooters location in Mexico City, Mexico, led by franchisee Hooters de Mexico, is now open. Hooters invites local residents and visitors of the capital of Mexico to take a break from the ordinary and enjoy great tasting food with friends and family among iconic Hooters Girl hospitality.
This new 4,852 foot venue, conveniently located at Avenida Canal de Garay 3278, Mexico City in the Parque Antenas Mall, incorporates Hooters latest design features and offers sports fans front row seats to cheer on their favorite teams while enjoying Hooters original chicken wings. Hooters of Antenas boasts 220 seats and 31 televisions, making it easy and comfortable for fans to catch their favorite game. The Antenas Mall is quite unique since it will have a 6.4 acres Amusement Park on its top floor. Guests will have access to rollercoasters, 30+ rides and games, and 3 open roof theaters.
"We're continuing our commitment of bringing the Hooters brand to life in Mexico City, with this awesome, contemporary location," said Alejandro Solis, Hooters de Mexico CEO. "Our local Hooters Girls will be serving up great food and world-famous Hooters Girl hospitality. We truly believe that 'Hooters Makes You Happy' and it's our promise to deliver that to the local residents and guests of Antenas."
The new location will feature a centrally located bar, a wide array of cocktails and craft beers, comfortable seating options, and a top-of-the-line AV package perfect for watching all the games. More than ever, Hooters is the perfect destination for just about any occasion that calls for great food and fun.
"Our longtime franchise partner, Hooters de Mexico, brings proven operational excellence throughout their many locations, and now in Antenas. As an outstanding steward of the Hooters brand, we're excited to see this beautiful new location open its doors," said Mark Whittle, Chief Development Officer, Hooters of America. "Their passion and exceptional standards continue to evolve as they roll out new Hooters locations across Mexico City."
Hooters continues its acceleration of restaurant openings and is actively seeking qualified franchise partners to open new locations in select markets across the U.S. and around the globe. For more information about becoming a Hooters franchisee, visit hooters.com/franchising.
About Hooters of America, LLC
Hooters of America, LLC, is the franchisor and operator of more than 425 Hooters restaurants in 39 states and 28 countries. Known for its world famous Hooters Style chicken wings, the first Hooters opened its doors in 1983 in Clearwater, Florida. Expectations were so modest at the time that the simple fact the doors opened was deemed worthy of a toast. Since then millions have been liberated from the ordinary at Hooters while enjoying great food, fun and one-of-a-kind hospitality that can only be served up by the Hooters Girls. For more information about Hooters visit www.Hooters.com or follow us at www.twitter.com/hooters, www.facebook.com/hooters, www.instagram.com/hooters or on Snapchat at "hooters."
About Hooters de Mexico
Hooters de Mexico has been a proud Hooters franchisee since 1997. It currently operates 15 Hooters restaurants in Mexico, has presence in 5 States (Mexico City, State of Mexico, Querétaro, Baja California and Puebla) and is expanding across Mexico. For more information, visit www.hooters.com.mx or follow us at facebook.com/Hootersdemexico, twitter.com/hootersdemexico or on instagram.com/hootersmexico.
To find your nearest Hooters location, visit Hooters.com.