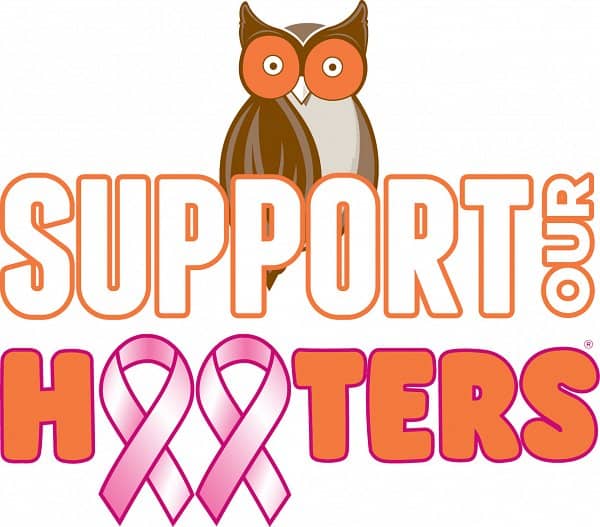 OCEANSIDE, Calif.--(BUSINESS WIRE)--HootWinc, LLC, the west coast franchise for Hooters locations in Southern California announced today that an exclusive Southern California 2015 Hooters Calendar Tour will kick off the iconic brand's national "Pink Week" and monthlong #SupportOurHooters fundraising campaign. Beginning next Monday, the 2015 Hooters Calendar Girls will appear at select locations across the state to meet and greet with guests, sign autographs and engage with local communities in an effort to raise awareness and funds for breast cancer research. With 17,000 Hooters Girls around the globe and a workforce made up of 70 percent women, no other dining destination is as uniquely qualified to do so!
For every Hooters Calendar sold, $1 will benefit the fundraising campaign for breast cancer research through The V Foundations for Cancer Research. Hooters is calling on the communities of Anaheim, Burbank, Costa Mesa, Mission Valley, Oceanside, Ontario Mills, San Marcos and Thousand Oaks, California, to rally and Support Our Hooters in the fight against breast cancer.
"Our calendar continues to grow in popularity and every year we're challenged with taking it up a notch," said Chuck Melcher, owner and publisher. "This year's 2015 Hooters Calendar is the best yet, and it's great to see the calendar launch being leveraged to raise awareness and funds for breast cancer research. The opportunities for the Hooters Calendar Girls are unmatched."
Hooters very own 2014 Miss Hooters International, Janet Layug, is the 2015 Hooters Calendar Cover Girl and she's raising her voice at the pink round table. In honor of National Breast Cancer Awareness Month and the #SupportOurHooters fundraising campaign, Ms. Layug has put together a Hooters Girl to Girl Checklist, a set of candid reminders for early detection.
Since 1986, the Hooters Calendar remains one of the most anticipated publications for Hooters fans, with more than 200 original photos of the world famous beautiful Hooters Girls, shot across 50 cities. The calendar employs a team of industry professional photographers who travel the U.S. shooting over 30,000 photos for the calendar.
2015 Hooters Calendar Tour: Southern California Dates
Monday, 10/6 – 1-4 p.m., Thousand Oaks Hooters
Monday, 10/6 – 6-8 p.m., Burbank Hooters
Tuesday, 10/7 – Noon-2 p.m., Ontario Mills Hooters
Tuesday, 10/7 – 4-6 p.m., Anaheim Hooters
Tuesday, 10/7 – 7-9 p.m., Costa Mesa Hooters
Wednesday, 10/8 – Noon-2 p.m., Oceanside Hooters
Wednesday,10/8 – 4-6 p.m., San Marcos Hooters
Wednesday, 10/8 – 7-9 p.m., Mission Valley Hooters
The Support Our Hooters fundraising effort will benefit the Kelly Jo Dowd Breast Cancer Research Fund which was developed in honor of the late Kelly Jo Dowd, one of the original Hooters Girls who graced the cover of the 1995 Hooters Calendar. Always an inspiration to her fellow Hooters Girls, Kelly Jo valiantly battled breast cancer for five years before succumbing on May 24, 2007. Throughout her struggle she was courageous and selfless, becoming an advocate for early detection, education and fundraising. Her influence on Hooters culture of service remains as strong as ever. Hooters Girls have raised more than $2 million to support breast cancer research, much of it through the grant in Kelly Jo's name to The V Foundation for Cancer Research, one of the nation's leading cancer research funding organizations. These grants honor Kelly Jo and further her mission to educate all women, especially her extended family consisting of some 300,000 current and former Hooters Girls, about the importance of early detection and prevention.
For more information about the #SupportOurHooters breast cancer research fundraising campaign, visit Support.Hooters.com. For a full list of 2015 Hooters Calendar Tour stops and events, visit www.hooterscalendar.com. To find the nearest Hooters location to make a donation, visit www.westcoasthooters.com.
To find your nearest Hooters location, visit Hooters.com.