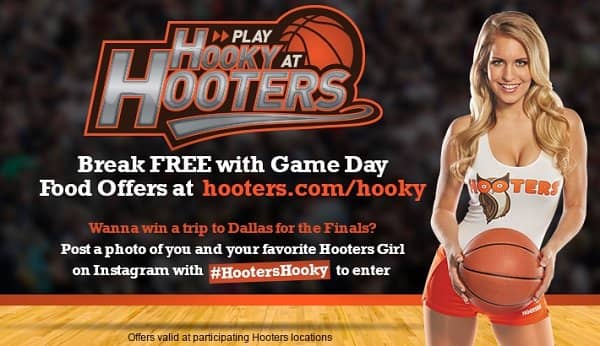 ATLANTA--(BUSINESS WIRE)--Hooters announced today that Patrick Robinson of Birmingham, Ala., has won an all-expenses paid trip to Dallas to take part in the excitement surrounding the men's college basketball tournament championship. The "Hooters Hooky" program encouraged fans to download deals on menu items with official excuses to play hooky at Hooters during basketball tourney season. Every game day download came with an entry to win the prize package trip to the "Big D." Robinson will enjoy flights to Dallas for himself and his wife Valeria, a two-night hotel stay, a $250 cash card, Hooters merchandise, $100 in Hooters bucks and cash for men's college basketball championship game tickets.
In addition to the Hooters Hooky prize, Robinson is invited to attend an exclusive VIP party at the Hooters of West End, Texas, on Sunday, April 6—better known as the "World's Largest Hooters." Dallas area fans are invited to mingle with the event's special party guests including Dick Vitale, legendary college basketball analyst; Jay Williams, former Duke University basketball great, NBA first-round pick and current ESPN analyst; Joey Chestnut, professional eater and two-time Hooters World Wing-Eating Champion; Marissa Raisor, Miss Hooters International 2013; and Tyler Suess, 2014 Hooters Girl of the Year.
"I'm thrilled to have won this trip to Dallas as I've never won anything before, and I'm looking forward to being a part of the championship action," said Robinson. "Hooters does a great job catering towards sports fans like me and winning this prize is a dream come true!"
Robinson, a regular customer at Hooters of Homewood, Ala., downloaded Hooters basketball game day deals at Hooters.com/Hooky to win the "Big D" grand prize package.
"Hooters is the ultimate sports-viewing destination so it's only fitting that we're sending Patrick and his wife to Dallas for one of the most beloved sporting events of the year," said Andrew Pudduck, vice president of marketing, Hooters of America. "Over the past few weeks we have had college hoops fans across the country join us at Hooters to watch the madness unfold and take advantage of our great deals, and there's even more to come this weekend leading up to the championship."
In addition to the "Big D" prize, Hooters awarded 100 bonus prizes to help fans show their team pride, with 50 winners receiving a Top of the World baseball hat and 50 winners receiving a The Original Retro Brand t-shirt with the team of their choice.
Just in time for tourney season, Hooters launched its spring menu featuring delicious, sharable options ideal to enjoy with friends and family on championship game day. The new Buffalo chicken dip is a combination of tender shredded chicken, spicy Buffalo sauce and creamy, melted cheese served with seasoned tortilla chips. Other feature items include a blackened Mahi sandwich, fiery Buffalo chicken wrap and Southwestern spring rolls. The spring menu is available now through April 20 at participating Hooters locations.
To find your nearest Hooters location, visit Hooters.com.