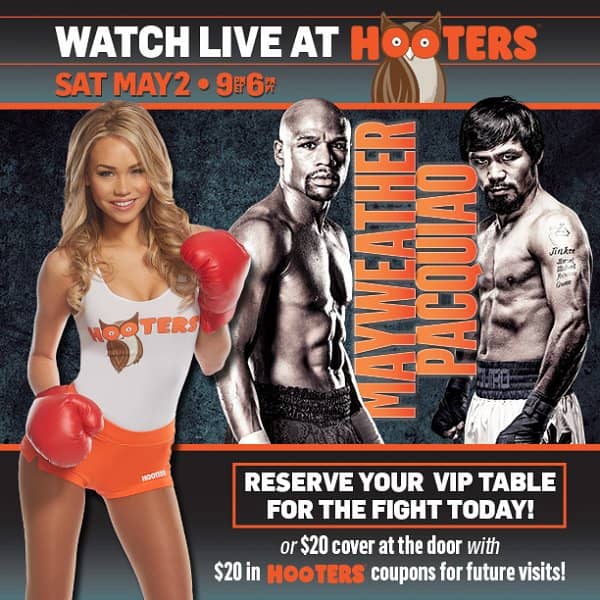 ATLANTA – Hooters is taking reservations for the boxing bout of the century, offering VIP seats to watch the wildly anticipated Floyd Mayweather Jr. vs. Manny Pacquiao Pay Per View fight on Saturday, May 2. As "Money Mayweather" looks to preserve his undefeated record against underdog Pacquiao, Hooters invites boxing fanatics to sit back and enjoy this once-in-a-lifetime live matchup with their favorite hometown Hooters Girls. Hooters is allowing fans to handpick a reserved seat in advance of the fight for only $30, which includes a free Hooters Fried Pickle appetizer. Seats not already reserved will be available for $20 on fight night, on a first come, first served basis. All fight night guests will receive $20 in free food coupons for future Hooters visits.
"As a premiere sports-viewing destination, we've gladly made a significant investment to our guests to make sure they don't miss The Fight of the Century, flanked by our world-famous Hooters Girls and the best wings in America," said Carl Sweat, chief marketing officer, Hooters. "We can't predict the scorecard, but one thing that's for sure is fans can always count on Hooters to deliver the hottest sports experiences."
VIP seats for the Mayweather vs. Pacquiao fight this Saturday, May 2, at 9 p.m. ET, are available at participating Hooters locations across the U.S. Prices and deals may vary per location, for full details visit http://fightnight.hooters.com.
Mayweather and Pacquiao are two of the greatest boxers of their generation, yet couldn't be more different. An ego-centric Mayweather enters the arena with a 47-0 (26 knockout) record, and a whole lot of trash talk. In contrast, his opponent is a serene, Filipino congressman with a 57-5-2 (38 knockout) record.
Hooters is one of the world's most famous fight night and sports-viewing destinations. From boxing and MMA matchups to football games and college hoops, Hooters boasts top-of-the-line AV packages and multiple TVs at every angle to ensure guests never miss a moment of the action.
To find your nearest Hooters location, visit Hooters.com.