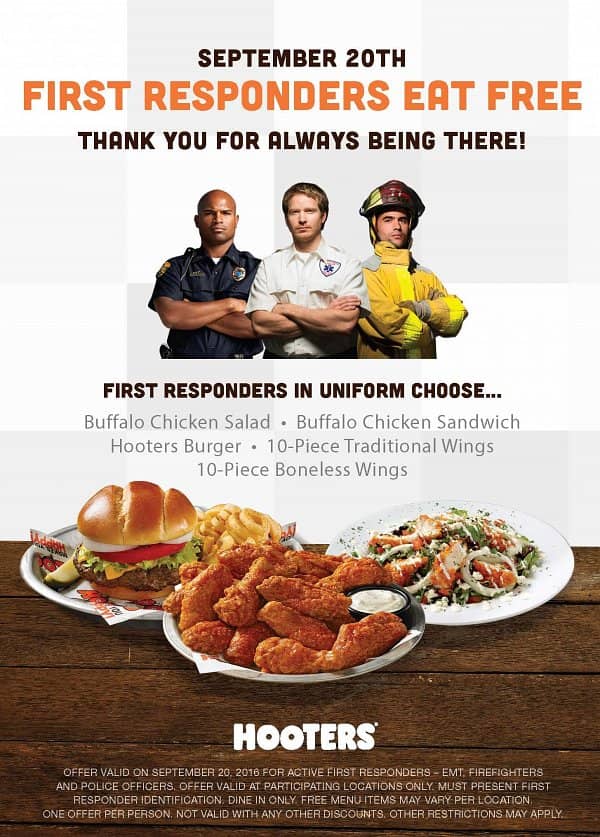 ATLANTA, September 12, 2016 – First Responders are brave citizens that protect and serve our nation every day. Hooters is passionate about honoring First Responders and is expressing its thanks on Tuesday, September 20 by offering a free meal to all First Responders in uniform or with a valid credential at any Hooters location across the country.
Hooters has teamed up with Andrew Collier, brother of slain MIT police officer Sean Collier who lost his life protecting his community during the Boston marathon bombing tragedy, to lead a movement to Congress to designate a National First Responders Day. The website, FirstRespondersDay.org, has been created as a place for Americans to express gratitude for First Responders and sign a petition formally requesting Congress to pass legislation to create a day of recognition for First Responders.
MLB Hall of Famer Hank Aaron, politician and activist Ambassador Andrew Young, ESPN football analyst Jon Gruden, NASCAR driver Greg Biffle, UFC President Dana White, UFC Hall of Famer Forrest Griffin and UFC Heavyweight Champion Stipe Miocic have also joined the effort and encourage Americans to sign the petition.
"We are proud of our nation's First Responders and appreciate the sacrifices they make every day to keep our communities safe," said Carl Sweat, chief marketing officer of Hooters. "Providing First Responders with a free meal is the least we can do for them, and we are honored to have them in our restaurants."
First Responders (EMT, firefighters and police officers) can choose their favorite meal from the Hooters First Responder Menu, including:
· Buffalo Chicken Salad
· Buffalo Chicken Sandwich
· Hooters Burger
· 10-Piece Traditional Wings
· 10-Piece Boneless Wings
In addition to signing the petition, Americans can show their support for First Responders by posting a picture on social media using the hashtag #OneWordOneDay and holding a sign with one word that they believe best represents First Responders.
To find your nearest Hooters location, visit Hooters.com.