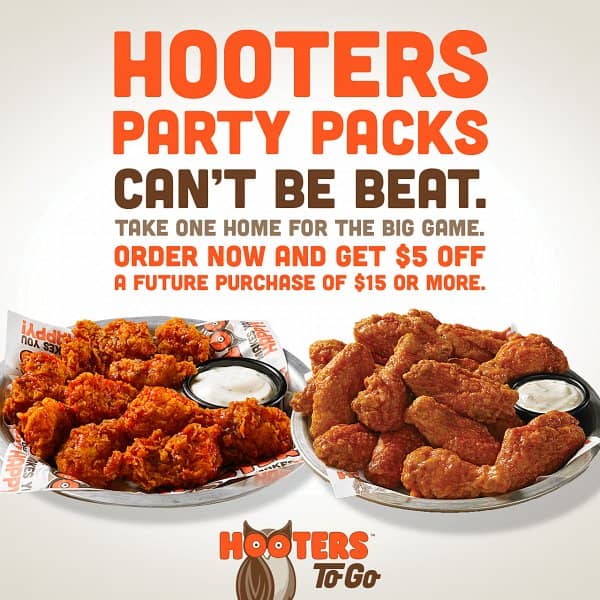 ATLANTA, GA – Feb. 01, 2016 – If your viewing party for the Big Game doesn't involve Hooters world-famous chicken wings, it's time to call an audible. Postseason football is officially underway and wing lovers everywhere can now take home Hooters Party Packs of 50 or 100 wings for the perfect fan food experience. For every Hooters Wings To-Go order placed before Feb. 7, Hooters fanatics will earn $5 off a future purchase of $15 or more.
"Hooters has always been the go-to destination for the Big Game, and those hosting epic viewing parties at home know that serving Hooters Wings To-Go is a win-win for the whole party," said Carl Sweat, chief marketing officer, Hooters. "When it comes to transforming your living room into the ultimate football-viewing man cave, Hooters has you covered on delicious game day grub."
When placing Hooters Wings To-Go orders, fans can choose between Hooters world-famous traditional and boneless chicken wings with buffalo sauce favorites, ranging in heat from mild to Triple Dog Dare, as well as signature sauces and rubs on select Hooters menus, such as Daytona, teriyaki-style samurai, lemon pepper and chipotle honey. Guests can also experience the Big Game with ice-cold beer and world-class Hooters Girl hospitality at their neighborhood Hooters location.
From now through Feb. 7, anyone who places a Hooters Wings To-Go order at Hooters locations across the U.S. will receive a $5 off voucher for a future purchase of $15 or more, good through Feb. 21. The voucher may be used toward merchandise or food while dining in at your favorite Hooters location.
To place a Hooters Wings To-Go order, visit HootersToGo.com to locate your nearest Hooters.
To find your nearest Hooters location, visit Hooters.com.