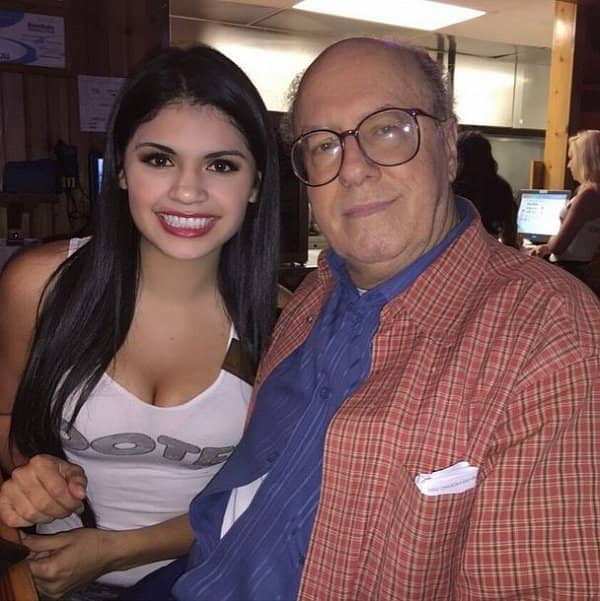 ATLANTA – Hooters is hosting a special welcome home reception to honor Hooters Girl Mariana Villarreal after she courageously donated her kidney to a longtime Hooters patron to help save his life. The party is scheduled for Thursday, June 11 at 6 p.m. at the Hooters of Roswell, Georgia, located at 795 Holcomb Bridge Road. During the recognition ceremony, Hooters will present a $20,000 donation to the National Kidney Foundation, serving Alabama, Georgia and Mississippi, in Villarreal's name.
Villarreal, 22, made the decision to donate one of her kidneys to 72-year-old Donald Thomas, a longtime Hooters guest and Vietnam War veteran, after learning he had lost both of his kidneys to cancer. Villarreal's grandmother was also battling kidney failure when she met Thomas. On Friday, May 29, Villarreal and Thomas underwent successful surgeries at the Piedmont Transplant Institute in Atlanta. Her kidney was a perfect match and doctors were reportedly amazed by how quickly Thomas' kidney began functioning post-surgery. Not only has Villarreal inspired her Hooters family, but her incredible story spread quickly and has touched many lives around the world.
"Mariana is an absolute inspiration, and we're honored to call such a selfless and compassionate person one of our own," said Terry Marks, chief executive officer, Hooters.
The $20,000 donation from Hooters to the National Kidney Foundation will help support the organization's dedication to the awareness, prevention and treatment of kidney disease for healthcare professionals, patients and their families, and those at risk.
"It is heroic stories like Mariana and Donald's that reinforce the meaning and purpose behind what we do here at the National Kidney Foundation," said Gary Renville, division president, National Kidney Foundation. "Thanks to this generous donation on behalf of Hooters, we will continue our steadfast commitment to the fight against kidney disease, and raise awareness of the benefit of living donation."
Throughout the year, Hooters Girls support and raise funds for a number of cause partners and nonprofit organizations that directly impact the local communities Hooters serves. Established as a 501(c)(3), the Hooters Community Endowment Fund (HOO.C.E.F) has contributed more than $10 million to local and national charitable groups, from military support organizations to cancer research centers to children's hospitals and more, since its inception in 1992. Last October alone, Hooters raised more than $660,000 for breast cancer research during National Breast Cancer Awareness Month.
The National Kidney Foundation is the leading organization in the U.S. dedicated to the awareness, prevention and treatment of kidney disease for the 73 million people at risk for chronic kidney disease. Early detection and treatment can slow or prevent the progression of kidney disease. To learn more about the National Kidney Foundation and find information about kidney health, visit www.kidney.org or www.everybodypees.org.
To find your nearest Hooters location, visit Hooters.com.