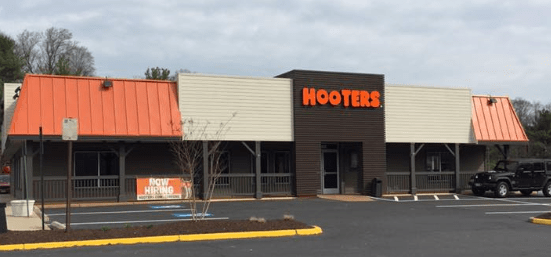 March 25, 2015 (Atlanta, GA) — Hooters today announced a new location, designed with contemporary features, is now open in Fairfax, Virginia. The 6,206 square foot space, located at 10060 Fairfax Blvd. near the Plantain Pkwy. intersection, can accommodate more than 200 valuable customers, serving up mouthwatering wings, burgers and salads with Hooters Girl hospitality. This new location replaces a former location at 10334 Lee Highway, where Hooters has served the Fairfax community since 1992.
The relocation will incorporate the latest design features that deliver the familiar, fun-loving persona of the Hooters brand along with newly contemporized elements that combine to deliver a one-of-a-kind guest experience. From two centrally located bars featuring 40 draught beers and a wide array of cocktails and craft beers to comfortable seating options and top-of-the-line AV packages perfect for watching all the games, more than ever Hooters is the perfect destination for just about any occasion that calls for great food and fun.
"This enhanced location will provide a new, fun-loving atmosphere for Fairfax residents looking for delicious fare and world famous Hooters Girl hospitality for many years to come," said Mark Whittle, senior vice president of global development, Hooters of America. "Hooters has a world renowned reputation for delicious food and we look forward to strengthening our presence across Virginia."
The Fairfax location will offer Hooters craveable menu options, including fresh entrée salads, a great lineup of hand-formed burgers, delicious seafood dishes and fan-favorite fried pickles. Of course, Hooters Girls always serve its world-famous traditional and boneless chicken wings with Buffalo sauce favorites, ranging in heat from mild to Triple Dog Dare, as well as signature sauces and rubs, such as teriyaki-style samurai, lemon pepper and chipotle honey.
Hooters is implementing remodel projects, accelerating its growth of new restaurants and is actively seeking qualified franchise partners to open new locations in select markets across the U.S. and around the globe. For more information about becoming a Hooters franchisee, visit http://franchising.hooters.com.
To find your nearest Hooters location, visit Hooters.com.