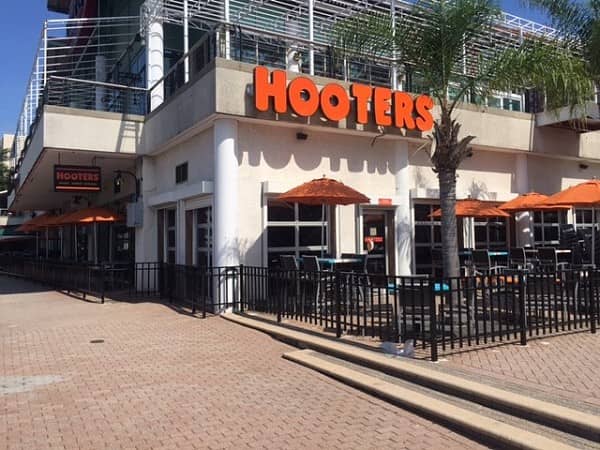 Hooters of America, LLC, announced that the Hooters of Jacksonville Landing location has recently received a completely remodeled look. With a fresh interior and exterior design featuring sleek and contemporary finishes, modernized furniture and technology, and a more comfortable dining experience, the remodels represent the new image of Hooters.
"Hooters is proud to introduce the modern design enhancements to the Jacksonville community," said Mark Whittle, Chief Development Officer, Hooters of America. "The updates were all made with our guests in mind; we hope that local customers will celebrate the remodeled location as an ideal place to kick back and relax after work, get together with friends to view their favorite sports teams, and enjoy a delicious meal with their families."
From the moment they walk through the doors, guests will relish a brighter feel with more open space to encourage social interaction and beckon people walking by to come in and join in the fun. The new design elements including high-back chairs and booth seating will surely keep guests comfortably seated for hours. This location seats more than 175 guests and is 5,188 square feet. This Hooters location features an outdoor patio with over 100 additional seats, creating a spacious environment that is an ideal setting for group dining.
One element fans will be sure to notice is the centralized location of the bar area, which offers a full range of liquor, beer and wine options. The restaurant is surrounded by a series of large, high-definition televisions for more clear lines of sight to guests' favorite sporting events.
The building itself embraces a modern atmosphere, with a rustic undertone in order to maintain aspects of Hooters' original beach oasis theme. The design features sleek finishes on the interior and exterior of the building, but there's still a hint of the original architecture through the use of wood throughout the space.
The remodeled Hooters of Jacksonville Landing located at 2 Independent Drive, Suite 103, Jacksonville, FL is now open.
Guests will enjoy Hooters craveable menu options, including fresh entrée salads, a great lineup of hand-formed burgers, delicious seafood dishes, fan-favorite fried pickles. And of course, Hooters world-famous traditional and boneless chicken wings are just an order away. Its latest wing innovation, Hooters Smoked Wings, is marinated overnight with a sweet and spicy dry rub before being hickory smoked in-house fresh each day. Guests can choose from one of three new dry rubs – Texas BBQ, Caribbean Jerk or Garlic Habanero – or have their wings tossed in their favorite of Hooters 17 craveable sauces. Hooters fans have not only gotten hooked on the amazing flavor of Smoked Wings, but also the fact that they're only half the calories of traditional buffalo style wings.
Hooters finished out 2017 having opened eight new corporate-owned locations and 17 franchise-owned locations. This year, Hooters plans to open at least 13 corporate locations in the U.S., and an additional 15 franchise locations in the U.S. and abroad.
Hooters is accelerating its growth of new restaurants, both with franchise and company owned locations, and is actively seeking qualified franchise partners to open new locations in select markets across the U.S. and around the globe. For more information about becoming a Hooters franchisee, visit hooters.com/franchising.
About Hooters of America, LLC
Hooters of America, LLC, is the franchisor and operator of more than 425 Hooters restaurants in 39 states and 31 countries. Known for its world famous Hooters Style chicken wings, the first Hooters opened its doors in 1983 in Clearwater, Florida. Expectations were so modest at the time that the simple fact the doors opened was deemed worthy of a toast. Since then millions have been liberated from the ordinary at Hooters while enjoying great food, fun and one-of-a-kind hospitality that can only be served up by the Hooters Girls. For more information about Hooters visit www.Hooters.com or follow us at www.twitter.com/hooters, www.facebook.com/hooters, www.instagram.com/hooters or on Snapchat at "hooters."
To find your nearest Hooters location, visit Hooters.com.