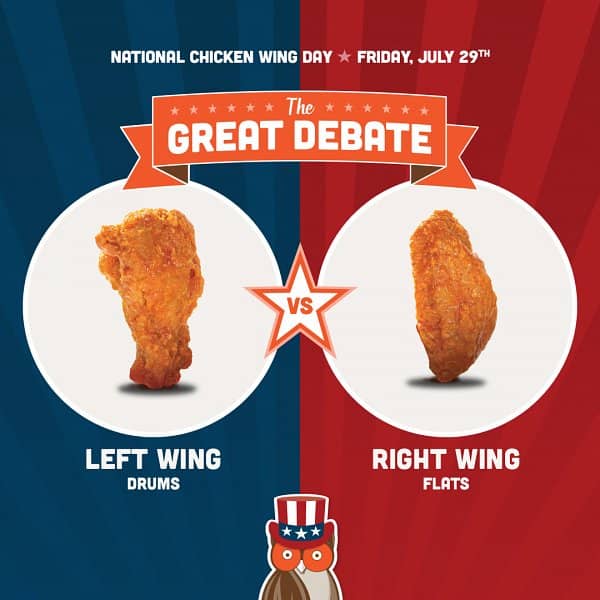 ATLANTA, GA – July 21, 2016 — What better way to celebrate National Chicken Wing Day than with all-you-can-eat, nearly world-famous Hooters chicken wings? In fact, this year Hooters answered the call from wing lovers everywhere by starting the fun a day early! Fans are invited to enjoy as many of those one-of-a-kind wings tossed in their favorite of Hooters 21 sauces all day on National Chicken Wing Eve, July 28, and from 11 a.m. to 4 p.m. on National Chicken Wing Day, July 29, at participating U.S. Hooters locations.
"In a year when Americans seem more divided than ever between right wing and left wing choices, Hooters will help settle the question once and for all by rallying Americans to cast their votes at wingvote.com," said Carl Sweat, global chief marketing officer, Hooters.
Hooters fans that enjoy all-you-can-eat-wings on National Chicken Wing Day will receive an "I voted" sticker from their Hooters Girl. Voters can choose to enjoy Hooters unlimited boneless wings or unlimited traditional wings all for one low price.
Competitive eating pundit Joey "Jaws" Chestnut from San Jose, California, recently devoured 194 Hooters chicken wings in 10 minutes to regain his title as the 2016 Hooters Worldwide Wing Eating Champion. Whichever side of the Great Debate you stand, National Chicken Wing Day is the time to step up and show Joey Chestnut how many wings YOU can enjoy with unlimited time and the all-you-can-eat special.
Additional tasty topics up for debate at wingvote.com include:
Smoked versus crispy wings
Ranch versus blue cheese dressing
Sweet versus spicy wing sauce
If these important issues are a bone of contention in your household, visit your nearest Hooters now through National Chicken Wing Day and decide for yourself which gets your vote. Hooters all-you-can-eat wings deals are available all day on Thursday, July 28, and 11 a.m. to 4 p.m. on Friday, July 29, at participating Hooters locations across the nation. Offers may vary per location.
To find your local National Chicken Wing Day offers and to place your vote, visit wingvote.com.
To find your nearest Hooters location, visit Hooters.com.