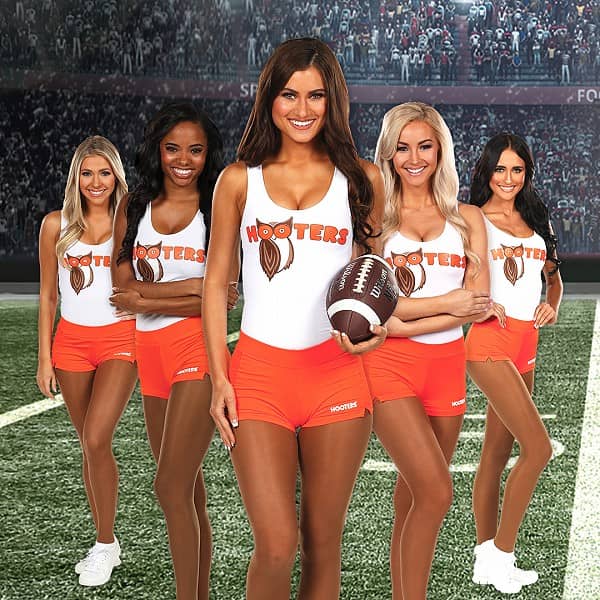 Let's face it, where would you rather host your draft party? Outdoors in the heat with warm beer and subpar food, or indoors at Hooters where you can enjoy World-Famous wings, ice-cold beer and a VIP setting for your entire league. Now is the time for Fantasy Football draft commissioners to get their heads out of their draft preparation and lock in the ultimate draft party at Hooters.
Book your Fantasy Football draft party by visiting hooters.com/football. Not only will you impress the members of your league, but each league will receive a free Bleacher Report draft kit complete with over $200 in Hooters freebies including coupons good for each week of the regular season. Attendees will also receive fun Hooters swag including bottle openers and koozies.
While you might think the star of your draft is the sleeper pick made in the eighth round, the real star of the draft party is always Hooters World-Famous wings. All Hooters wings can be tossed in your favorite of 17 craveable sauces or one of three dry rubs - Texas BBQ, Caribbean Jerk or Garlic Habanero. One of the tastiest breakout picks your draft party can all get behind is Hooters new smoked wings which are marinated overnight with a sweet and spicy dry rub before being hickory smoked in-house fresh each day.
League members can enjoy ice-cold beer from Hooters wide selection of beers on tap. For those who want to mix it up, draft attendees can ponder their next pick while enjoying our delicious $5 Watermelon Margaritas that are available at participating locations through August 31.
Don't be the person who still shows up to your draft with a magazine. Step into the 21st century and share your Hooters draft party experience using #HootersDraftParty on social media and #HootersTV. To book a fantasy football draft party at Hooters now through Sunday, Sept. 2, visit hooters.com/football. Draft kits and freebies are available at participating locations while supplies last.

To find your nearest Hooters location, visit Hooters.com.