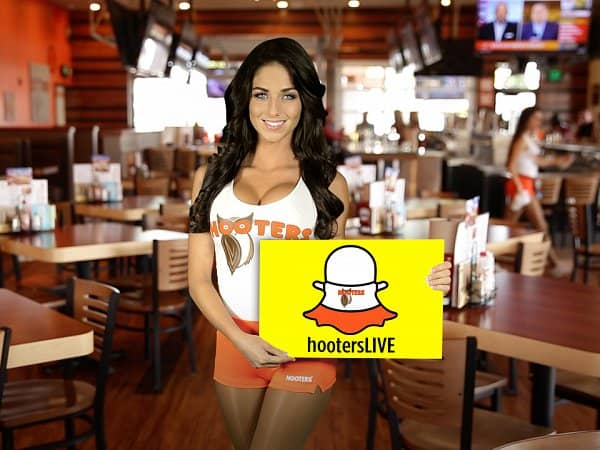 ATLANTA, GA – June 19, 2015 – Hooters is taking Las Vegas by storm with the debut of its Snapchat account as part of the 19th Annual Hooters International Swimsuit Pageant at the Hard Rock Hotel & Casino. Hooters fans are invited to follow "hootersLIVE" on Snapchat for a backstage pass to all of the glitz and glamor as 100 beautiful Hooters Girls from around the world descend upon Vegas this week to compete for the 2015 Miss Hooters International title on Wednesday, June 24.
"Our Hooters International Swimsuit Pageant is the perfect platform to digitally engage with our loyal guests and fans in real time," said Carl Sweat, chief marketing officer, Hooters. "From photoshoots to pre-pageant parties and beyond, we're kicking off our Snapchat channel with an exclusive look at a day in the life of an iconic Hooters Girl—or in this case, 100 Hooters Girls."
To celebrate the new hootersLIVE account, Hooters has a special giveaway planned for Snapchat followers who are in Las Vegas this weekend. Moving forward, Hooters will continue to share exclusive views of activities throughout the year, such as "snapping" on-set at national commercials and photoshoots, sharing glimpses of international Hooters grand opening parties, engaging with fans and celebrities for special events and holidays like National Chicken Wing Day, and much more.
The Hooters International Swimsuit Pageant will take place at The Joint at the Hard Rock Hotel and Casino in Las Vegas on Wednesday, June 24. Hooters fans and followers on Instagram, Twitter and Facebook can also follow the pageant action and contestant updates using the hashtag #HootersPageant.
Co-hosts for this year's Hooters International Swimsuit Pageant are Kenny Florian, Ultimate Fighting Championship® (UFC®) icon and co-host of FOX Sports 1's UFC TONIGHT, and Michelle Nunes, actress, Hooters Girl Hall of Famer and 2006 Miss Hooters International.
Contestants are evaluated based on responses to interview questions, personality and overall contribution to the Hooters brand, as well as swimsuit attire. A five-person panel of celebrity judges includes nine-year NFL veteran running back, Clinton Portis; retired American Light Heavyweight UFC fighter and UFC Hall of Famer, Forrest Griffin; Miss Florida USA 2014, Miss USA 2014 fourth runner-up and top fashion and swimsuit model, Brittany Oldehoff; American snowboarder, 2010 Winter Olympic bronze medalist and 2004 World Quarterpipe Champion, Scotty Lago; and the "Original Hooters Girl," model and actress, Lynne Austin.
Hooters Girl contestants will compete for the 2015 Miss Hooters International title, which includes a $30,000 cash prize and the chance to serve as the face of the iconic brand. She will become a brand ambassador and spokesperson, travel to assist in international openings, appear in national advertisements and contribute to marketing initiatives and special events throughout the year.
The pageant contestants were selected from more than 18,000 Hooters Girls who presently work in one of the more than 400 Hooters locations worldwide. They each competed in local and regional swimsuit contests for one of the 100 coveted spots in the Hooters 19th Annual International Swimsuit Pageant.
The Hooters International Swimsuit Pageant with bonus footage will air in July on FOX Sports 1.
To find your nearest Hooters location, visit Hooters.com.