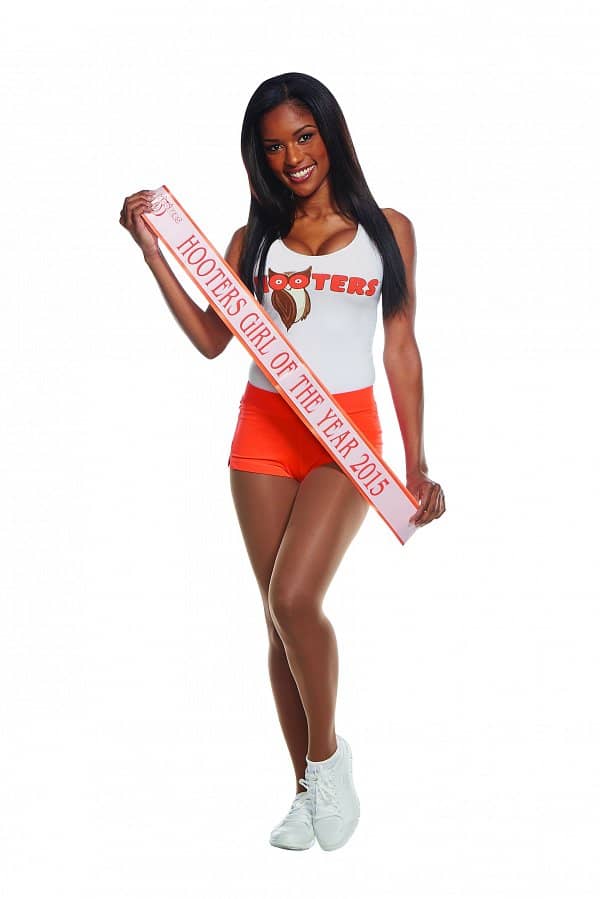 ATLANTA — Glamorous, vivacious and compassionate Jenell Hendrix has been named Hooters Girl of the Year 2015. This honorary title is awarded to one woman every year who exemplifies all of the qualities of an ideal Hooters Girl, and, with her larger-than-life personality, exceptional hospitality skills, striking looks and outstanding commitment to Hooters, Jenell does just that.
"Jenell's image and hospitality is that of the quintessential Hooters Girl. Not only does she demonstrate an incredible attitude and positive demeanor, but I have never come across someone with a more genuine concern and steadfast commitment to our valued guests," said Tommy Yardy, director of operations, Hooters of America. "Her warmth and charm is consistently noticed by our customers, and she is the girl who will always go out of her way to help a fellow employee. We're proud to have Jenell serve as an ambassador of the Hooters family, and to celebrate her for earning this well-deserved title."
During a typical divisional training session today at the Hooters of Kiener Plaza in St. Louis, Missouri, Hendrix was surprised by a visit from Hooters executives to officially notify her of her title and present her with the coveted Hooters Girl of the Year 2015 sash.
Over the course of her career with Hooters, Hendrix has been featured as a Hooters Calendar Girl for the past three years, annually participates as part of the Hooters International Training Team and is an area coach and hourly manager at her hometown location, the Hooters of Champaign, Illinois. She has represented Champaign several times as a contestant in the Hooters International Swimsuit Pageant and was honored as Miss Congeniality during the 2012 pageant.
Hendrix holds a Bachelor of Arts degree in communication from the University of Illinois at Urbana–Champaign. When she's not sporting the iconic orange shorts, Hendrix models professionally and most recently made an appearance in the new hip-hop television drama series, Empire.
Despite numerous accolades as a Hooters Girl, Hendrix' most memorable experience working for the iconic brand was visiting a local children's hospital and developing a relationship with a little boy who reminded her of her own son. Hendrix had such a great time painting paper airplanes and playing firefighters that she found it hard to believe someone with such a strong and vibrant spirit could be ill at all. According to Hendrix, it's these type of community engagement opportunities that help her maintain valuable perspective on the important things in life.
For being named Hooters Girl of the Year, Hendrix receives $4,000 in cash and will be featured as a year-long Hooters Girl spokeswoman. She'll enjoy photo shoots and national appearances as well as a spotlight in Hooters Magazine. Her duties in 2015 include continuing to uphold the highest standards of the Hooters Girl image, hospitality and positive attitude. She will serve as a Hooters Image Ambassador at image workshops throughout the country, represent Hooters at special events and set an example of maturity and teamwork to her fellow Hooters Girls.
On Friday, Jan. 30, Hendrix will be honored by her beloved Hooters family during a congratulations party at her hometown Hooters of Champaign, located at 1706 State Street, Champaign, IL 61820. The party kicks off at 11 a.m. CST and guests are invited to stop by for autographs and photos with Hendrix to help celebrate her milestone achievement.
For more information about Hooters Girl of the Year and to view photos of Hendrix, visit www.facebook.com/hooters or follow Hendrix on her personal Twitter, Facebook or Instagram profiles.
To find your nearest Hooters location, visit Hooters.com.