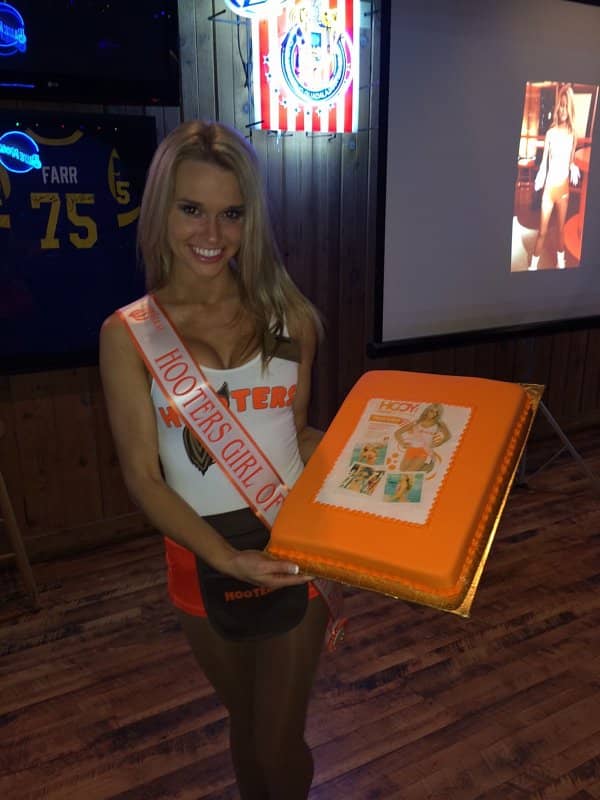 ATLANTA--Hooters of America, LLC announced today that Rockford, Ill., Hooters Girl Tyler Suess is named Hooters Girl of the Year 2014. This honorary title is given to one woman every year who exemplifies all of the qualities of an ideal Hooters Girl, including an impeccable image, excellent hospitality skills and great attitude and personality.
"Tyler has been an amazing brand ambassador for Hooters for more than eight years. With an unsurpassed positive attitude, warmth and Hooters charm, she shows an incredible commitment to our valued guests and ensures all who dine at Hooters have a great experience," said Tommy Yardy, director of operations, Hooters of America. "Her inner beauty and bright personality shine through to customers, as well as her fellow employees. We're proud to have Tyler as a part of the Hooters family, and to recognize her as our Hooters Girl of the Year."
During a typical divisional training session on February 4 at the Hooters of Keiner Plaza in St. Louis, Mo., Suess was surprised by a visit from Hooters executives to officially notify her of her title and present her with the coveted Hooters Girl of the Year sash.
Over the course of her career with Hooters, Suess has been featured as a Hooters Calendar Girl twice and participates as part of the Hooters Calendar Board. She represented her home location, the Hooters of Rockford, Ill., as a contestant in the Hooters International Swimsuit Pageant for several years – placing first runner up for Miss Hooters International 2012! She has already appeared as a model in a number of Hooters promotions and advertisements. Suess is also a respected member of the Hooters International Training Team, traveling to assist in opening 13 new Hooters locations, including the most recent grand opening of the Hooters of Osaka, Japan.
Despite her numerous accolades as a Hooters Girl, Suess' favorite experience while working for the iconic brand is visiting the Joe DiMaggio Children's Hospital in Hollywood, Fla., and developing relationships with the children there. According to Suess, it's these types of community engagement opportunities that help her maintain valuable perspective on the important things in life.
For being named Hooters Girl of the Year, Suess receives $4,000 in cash as well as a spotlight in Hooters Magazine. Her duties in 2014 include upholding the highest standards of the Hooters Girl image, hospitality and positive attitude. She will serve as a Hooters Image Ambassador at image workshops throughout the country, represent Hooters at special events and set an example of maturity and teamwork to her fellow Hooters Girls.
To find your nearest Hooters location, visit Hooters.com.