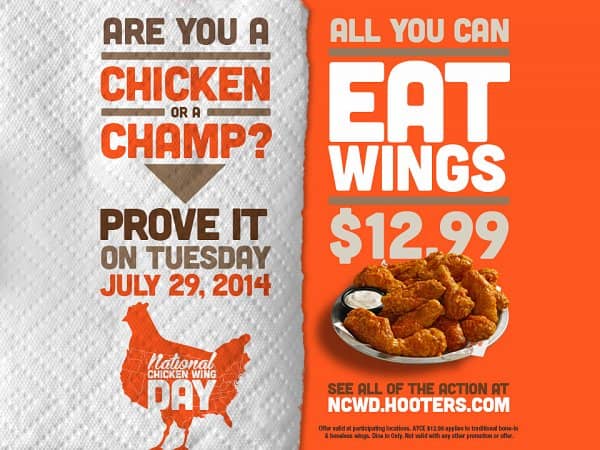 ATLANTA--(BUSINESS WIRE)--In honor of National Chicken Wing Day, Hooters has issued a challenge to chicken wing aficionados across the nation to collectively eat two million wings in one day. In full support of this saucy dare, Hooters is offering a $12.99 all-you-can-eat wing deal on Tuesday, July 29, at participating locations throughout the country.
"On the heels of naming Joey Chestnut as the Hooters World Wing Eating Champion, we want to see what the rest of America is made of on our favorite holiday, National Chicken Wing Day," said Andrew Pudduck, vice president of marketing, Hooters of America. "The all-you-can-eat deal is a wing lover's dream come true. Bring your appetite to Hooters tomorrow and show us you're a champ, not a chicken!"
Last year, America took down more than 1.5 million Hooters chicken wings during the zany wing holiday. This year, with the stakes higher than ever, Hooters has recruited famed former professional football coach Jon Gruden to help get the nation and now three-time Hooters World Wing Eating Champion Joey Chestnut fired up and ready for the big day in this comical video titled, "Jon Gruden Grills Joey Chestnut."
Hooters will provide novelty wing-tally stickers to guests who accept the challenge on National Chicken Wing Day. Wing devotees can also share their personal wing counts digitally by posting photos on Twitter and Instagram with the hashtag #StepIntoAwesome. The best Hooters National Chicken Wing Day moments will be featured on www.stepintoawesome.com. There will also be an official wing tally updated every hour on the Hooters Facebook page.
To find your nearest Hooters location, visit Hooters.com.