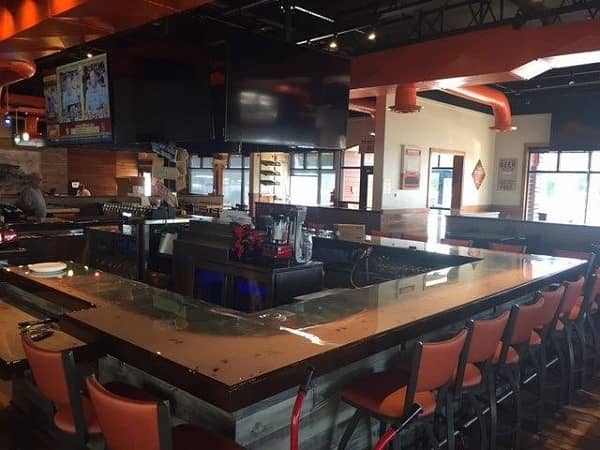 Hooters brand-new location in Memphis, Tennessee is opening on Monday, Oct. 23. The 5,842-square foot space, conveniently located off Highway 385 at 7535 Winchester Road, features Hooters contemporary prototype design elements and offers guests front row seats to cheer on their favorite sports teams while enjoying Hooters original chicken wings.
"We're excited to give local Hooters fans a chance to take a break from the ordinary and enjoy great tasting food with friends and family among iconic Hooters Girl hospitality," said Mark Whittle, chief development officer, Hooters of America. "Our brand-new location offers comfortable seating options that cater to individuals and families, as well as a top-of-the-line AV package perfect for catching all the action from the latest sports games."
Hooters of Memphis SE features themed tables and artist murals highlighting the local history and flavor that help put Memphis on the map as the Home of Blues and the Birthplace of Rock and Roll. It also incorporates the latest design features that deliver the familiar, fun-loving persona of the Hooters brand. From a centrally located bar featuring 32 draught beers and a wide array of cocktails and craft beers to Hooters craveable menu options, including fresh entrée salads, a great lineup of hand-formed burgers, delicious seafood dishes and fan-favorite fried pickles, Hooters is the perfect destination for just about any occasion that calls for great food and fun.
And of course, Hooters world-famous traditional and boneless chicken wings are just an order away. Its latest wing innovation, Hooters Smoked Wings, are marinated overnight with a sweet and spicy dry rub before being hickory smoked in-house fresh each day. Guests can choose from one of three new dry rubs – Texas BBQ, Caribbean Jerk or Garlic Habanero – or have their wings tossed in their favorite of Hooters 17 craveable sauces. Hooters fans have not only gotten hooked on the amazing flavor of Smoked Wings, but also the fact that they're only half the calories of traditional buffalo style wings.
Hooters is accelerating its growth of new restaurants, both with franchise and company owned locations, and is actively seeking qualified franchise partners to open new locations in select markets across the U.S. and around the globe. For more information about becoming a Hooters franchisee, visit hooters.com/franchising.
To find your nearest Hooters location, visit Hooters.com.