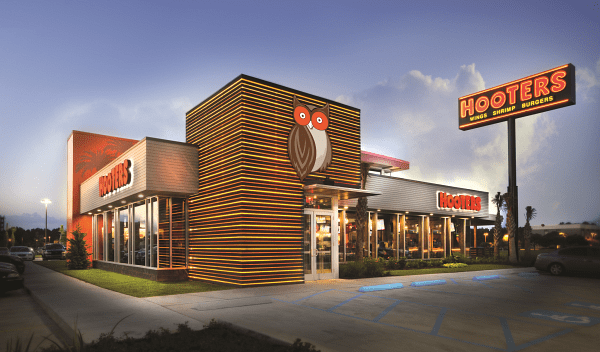 ATLANTA--(BUSINESS WIRE)--Hooters, world famous for its signature saucy wings and beautiful Hooters Girls, has remodeled seventeen of its Texas-area locations in Dallas, Houston and San Antonio, in 2014. More than $7 million dollars was invested into the refresh project that includes interior and exterior design enhancements, with a focus on contemporary comfort that matches the fun-loving persona of the brand. Hooters is implementing remodel projects in several key markets throughout the country, investing an average of $450,000 per location.
"Guests come to Hooters to escape the ordinary, and we're focused on creating an even more inviting, laid-back environment for them to do so," said Mark Whittle, senior vice president of global development, Hooters of America. "Texas is one of our largest markets and we've invested a significant amount of time and capital into our stores there. We're confident the noticeable changes we've made will impact every one of our fans, boosting the awesome dining and sports viewing experience they've come to expect from us."
The completion of these Texas remodels is part of a corporate-wide effort on remodeling in which more than 25 restaurants will be remodeled per year, spanning the next five years. From more comfortable seating with revamped high back chairs and booths, to sleek finishes including hard wood floors, new furniture and top-of-the-line AV packages, the renovated spaces were designed to enhance the guest dining experience from the moment they walk through the doors. Most of the newly improved restaurants also include a centrally located bar area, offering a wide selection of cocktails, craft beers and wines, as well as a full range of liquor.
All remodeled locations offer Hooters craveable menu options, including fresh entrée salads, a great lineup of hand-formed burgers, delicious seafood dishes and fan-favorite fried pickles. Of course, Hooters continues to serve its world-famous traditional and boneless chicken wings with Buffalo sauce favorites, ranging in heat from mild to 911, as well as signature sauces and rubs, such as teriyaki-style samurai, lemon pepper and chipotle honey.
The remodeled Hooters locations in the Texas area include:
Dallas, Texas
Hooters of Arlington North
Hooters of Arlington South
Hooters of Denton
Hooters of Fort Worth
Hooters of McKinney
Hooters of Mesquite
Hooters of North Richland Hills
Hooters of Plano
Hooters of West End
San Antonio, Texas
Hooters of Riverwalk
Hooters of San Antonio North
Hooters of San Pedro
Houston, Texas
Hooters of Humble
Hooters of Nasa
Hooters of NW Freeway
Hooters of Seabrook
Hooters of Willowbrook
To learn more about Hooters happenings, visit www.hooters.com. For media inquiries or to request photos of the new locations, visit the Hooters newsroom at http://news.hooters.com.
To find your nearest Hooters location, visit Hooters.com.