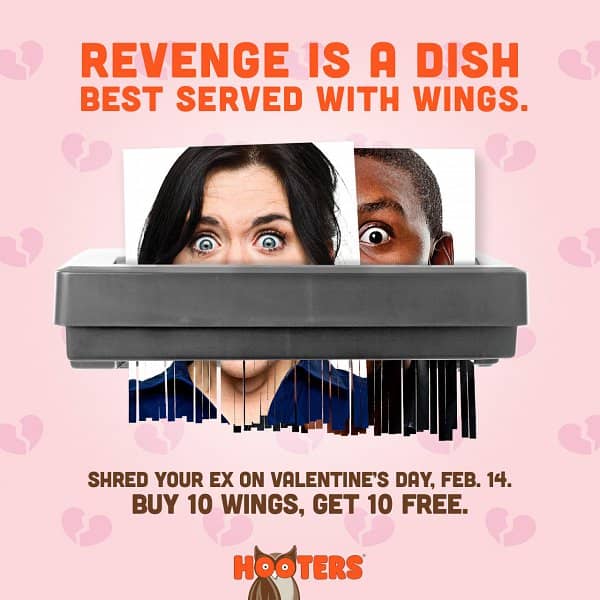 ATLANTA, GA – Feb. 4, 2016 – Hooters is out to create a happy Valentine's Day event for ALL of it fans, especially those who might be rebounding from a less than perfect relationship. So this Valentine's Day, Hooters is offering a simple solution for everyone with an "ex": shred 'em and forget 'em. Hooters fans can take the #ShredYourEx online quiz at Hooters.com/ShredYourEx or bring a photo of you-know-who to their favorite local Hooters to earn 10 free boneless wings with the purchase of 10 wings on Feb. 14. They shredded your heart. Return the favor.
"Hooters is all about creating a fun experience for our fans. Not only will you #ShredYourEx when you come into Hooters this Valentine's Day, you'll also find a new love, our nearly world-famous wings served with a smile by your local Hooters Girls," said Carl Sweat, chief marketing officer, Hooters. "It's time to create a new Valentine's Day tradition. Grab some friends and share your best stories about that memorable old flame that you'd all like to forget."
Get rid of that photographic reminder of you-know-who by answering a few quick questions online at Hooters.com/ShredYourEx. Your responses will provide the most satisfying method of disposal. Once that's done, grab the digital coupon and head to your local Hooters on Valentine's Day to enjoy 10 boneless wings on the house with purchase of 10 wings. If you prefer to savor the moment of closure in-person, bring a photo of your ex to your favorite local Hooters location on Valentine's Day where Hooters Girls will help the healing begin. Closure tastes a lot like chicken wings.
There are so many options to flavor Hooters world-famous chicken wings with buffalo sauce favorites, ranging in heat from mild to Triple Dog Dare, as well as signature sauces and rubs on select Hooters menus, such as teriyaki-style samurai, lemon pepper and chipotle honey.
Hooters has been bringing together friends to #ShredYourEx in the southwest for years and is now giving customers across the country the same opportunity.
The Hooters Valentine's Day deal of buy 10 wings, get 10 boneless wings free is available for dine-in guests at participating Hooters locations across the United States on Sunday, Feb. 14, 2016. Bring a photo of your ex to shred at your local Hooters or shred your ex online at Hooters.com/ShredYourEx to receive a digital coupon to activate the deal. Cannot be combined with any other discount or promotional offer. Valid at participating locations. IMPORTANT DISCLAIMER: No "ex" was shredded in the creation of this promotion. Each ex shredded also maintains the right to shred THEIR ex. All's fair in love and shredding!
To find your nearest Hooters location, visit Hooters.com.