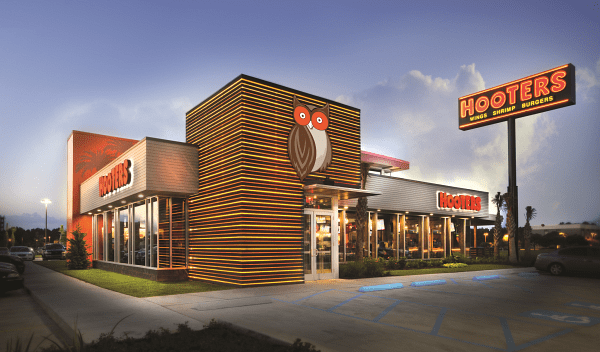 LONG BEACH, CA – Perfection takes time and "The Pike at Rainbow Harbor" in Long Beach, California, will become even more attractive and a lot more fun when the Hooters of Long Beach hosts its grand opening celebration of the relocation of the restaurant on Monday, May 4. The celebration of the restaurants' brand new location and modern design will kick off with tons of fun grand opening festivities.
On grand opening day, Monday, May 4, the residents of Los Angeles County are invited to be among the first to experience the third newly constructed Hooters prototype in the last year in California. The building boasts contemporary and modern flair, while still serving up what Hooters has been known for over the past 30 years, its fresh, world-famous wings served by the iconic, gorgeous and vivacious Hooters Girls.
The new Hooters of Long Beach is located at 90 Aquarium Way in The Pike at Rainbow Harbor. The grand opening will take place from 11 a.m. to close and the first 100 guests will win free Hooters wings for a year! A percentage of grand opening day sales will be donated to benefit Pediatric Congenital Heart Disease Research.
The celebration is a chance for Hooters franchisee Hootwinc, LLC, to unveil the completely new, modern look for this location. This prototype delivers a fresh, contemporary and comfortable dining experience. The Long Beach design follows the model set forth for all future new build Hooters locations, and it will influence enhancements and renovations to existing locations.
"It is very exciting to relocate to a location in Long Beach where we can showcase the new design. We hope to continue to be a thriving part of the local area and offer a dining destination known for its great food, outstanding service and world famous Hooters Girls. Hooters is exceptionally proud to reveal this new design concept, reinvigorating the look and feel of Hooters without losing the essence of our iconic brand that the world has loved since 1983," said Hootwinc Director of Marketing, Melissa Fry.
The new Long Beach design continues to build on Hooters 30 years of success with an eye on the future. "At our core, Hooters is a place where people relax, enjoy great food, watch their favorite sports teams and are liberated from the ordinary. The new design exemplifies what the future of Hooters looks like, and we're excited about that future," added Fry.
Hooters of Long Beach in The Pike, located just 25 miles from downtown Los Angeles, provides a completely new guest experience. From the moment they walk through the doors, guests relish a cleaner and brighter feel, with expansive windows and more open space to encourage social interaction and beckon people walking by to come in and join in the fun! The building itself touches on the modern, with a rustic undertone in order to maintain aspects of Hooters beach oasis heritage. The design features clean lines and sleek finishes on the interior and exterior of the building, but there's still a nod to the past with the use of wood throughout the space. One element fans will be sure to notice is the "bar centric" design of the vast bar, which highlights a full range of liquor, over 60 draft domestic, import and local craft beers and various wine offerings for guests. Sports fans will especially enjoy the massive state-of-the-art audio visual elements like an interactive TV, giant high-definition flat panel TV, and a 180" projection screen that creates life-size images of your favorite sports heroes. Guests will feel like they are sitting right on the sideline of their favorite games.
Comfort was also a key consideration in the new design. Guests can choose to sit at the high-back seating tables, which provide an "on stage" feel for guests and will show passersby's what they're missing! High-back seating booths offer comfortable areas for late-night visitors and sports watchers, while the expansive patio and an outdoor bar with 60 draft beer selections offers plenty of space to kick back and enjoy spending quality time with friends while enjoying the scenic view of the Long Beach Harbor and the famous Queen Mary. While soaking up the southern California sun on the patio, you won't miss one minute of your favorite game as the phenomenal audio-visual package has you covered outside as well with multiple 70" HDTV's. The new design could not be complete without celebrating Hooters 30 years of history by featuring a "Heritage Wall," which highlights the iconic Hooters Girl and several milestones over the last three decades.
Hooters first came to the city of Long Beach over 15 years ago when they opened their former locations at two different sites, the first at 130 Pine Avenue and then second in 2010 at 71 Aquarium Way. "Remaining in the city of Long Beach was very important to us. We have a long-standing relationship with the residents of Long Beach and a strong desire to continue to help support, grow and develop the community," said Fry.
Hooters of Long Beach restaurant employs over 100 local residents that make up the staff of cooks, Hooters Girls and managers. "We are certainly grateful for the city's continued acceptance," said Fry. "The welcoming spirit of the community and the desire to give back is what drove us to keep true to our roots and invest in new location at The Pike. We realize that the employment opportunities as well as the tax revenue generated at the new location can be a significant contribution to the city and we are dedicated to investing towards the renovation and development of the new building at The Pike."
"Guests come to Hooters to escape the ordinary and we have been focused on creating an even more inviting, laid-back environment for them to do so", said Kevin Dombchik, Chief Operating Officer for the West Coast franchise, Hootwinc LLC. "We are confident that the noticeable changes, significant amount of time and capital into this location we've made will impact every one of our fans, boosting the awesome dining and sports viewing experience they've come to expect from us. We are proud to continue to be a supporting business in the city of Long Beach and look forward to this restaurant being our flagship location".
About West Coast Hooters
Hooters is involved with many charities and organizations nationwide and is excited to bring that involvement to Long Beach. Hooters has donated more than $10 million to causes nationwide through HOO.C.E.F, the Hooters Community Endowment Fund. Hooters of America, LLC, is the franchisor and operator of over 416 Hooters restaurants in 42 states and 26 countries. The first Hooters opened in 1983 in Clearwater, Florida. Everyone is liberated from the ordinary at Hooters while enjoying great food, fun and uniquely-Hooters service from the iconic Hooters Girls. For more information about Hooters visit www.westcoasthooters.com or follow us on Twitter at www.Twitter.com/WestCoastHoots; Instagram at www.Instagram/westcoasthooters; or Facebook at www.Facebook.com/WestCoastHooters.
To find your nearest Hooters location, visit Hooters.com.