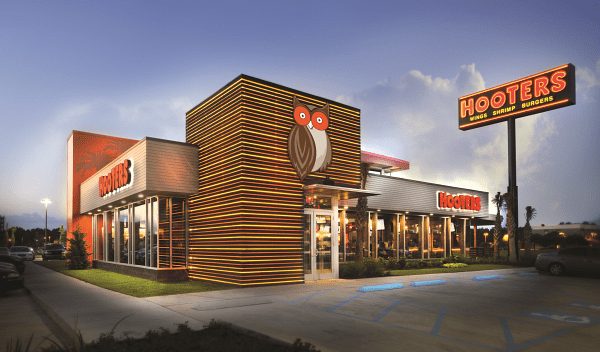 ATLANTA, GA – August 8, 2016 — Hooters today announced a brand new location in Pearland, Texas is now open. The 6,400 square foot space, located at 15838 S Hwy 288, features Hooters latest prototype design, including an inviting outdoor patio and offers guests front row seats to cheer on their favorite sports teams while enjoying Hooters original chicken wings.
"Pearland's newest Hooters provides Texans a laid-back atmosphere to step away from the hustle and bustle of their daily lives, to enjoy great tasting food among iconic Hooters Girl hospitality," said Mark Whittle, senior vice president of global development, Hooters of America. "As the 42nd Hooters in the Lone Star State, our brand new Pearland location is a shining example of the long-established Hooters legacy right here in Texas. We have plans to open five more restaurants in Texas by the end of 2016."
The new location incorporates the latest design features that deliver the familiar, fun-loving persona of the Hooters brand along with newly contemporized elements that combine to deliver a one-of-a-kind guest experience. From a centrally located bar featuring 32 draught beers and a wide array of cocktails and craft beers to comfortable seating options and a top-of-the-line AV package perfect for watching all the games, more than ever Hooters is the perfect destination for just about any occasion that calls for great food and fun.
The new Pearland location offers Hooters craveable menu options, including fresh entrée salads, a great lineup of hand-formed burgers, delicious seafood dishes and fan-favorite fried pickles. Of course, Hooters Girls always serve its world-famous traditional and boneless chicken wings with Buffalo sauce favorites, ranging in heat from mild to triple dog dare as well as signature sauces and rubs, such as teriyaki-style samurai, lemon pepper and chipotle honey.
Hooters is accelerating its growth of new restaurants, both with franchise and company owned locations, and is actively seeking qualified franchise partners to open new locations in select markets across the U.S. and around the globe. For more information about becoming a Hooters franchisee, visit hooters.com/franchising.
To find your nearest Hooters location, visit Hooters.com.