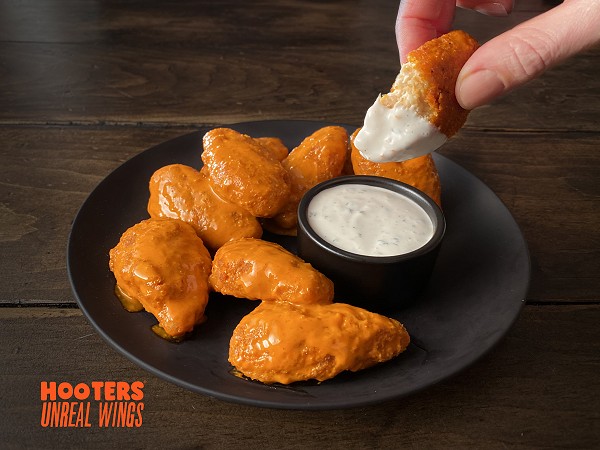 Newly available at all Hooters locations nationwide two new craveable wings – Unreal wings and roasted wings! Keep on track with your New Year's resolution without giving up your favorite foods, Hooters Unreal wings and roasted wings are a healthier option to the original wings you know and love.
Hooters Unreal wings are made with Quorn's Meatless Wings, which are fried and then tossed in Hooters' classic sauces and dry rubs. From Original BBQ to Honey Sriracha to Classic Buffalo, the Unreal wings are vegetarian, non-GMO, soy-free and sustainably-produced. Diners can now enjoy them with any of Hooters sauces or dry rubs. They are 100% carnivore approved and even the most loyal meat eaters won't believe Unreal wings.
Hooters roasted wings are roasted to seal in the moisture and provide a crispy skin, offering a healthy alternative with fewer calories than our original wings. Pick from any of Hooters 14 creaveable sauces to get them tossed in, or try one of our delicious dry rubs.
If you thought Hooters original wings were amazing to eat, these new healthier options won't disappoint. Roasted wings and Unreal wings are now available for dine-in, carry-out and delivery at more than 300 Hooters locations across the U.S. To find your nearest Hooters location visit www.hooters.com or follow us at twitter.com/hooters, facebook.com/hooters
and instagram.com/hooters.
To find your nearest Hooters location, visit Hooters.com.