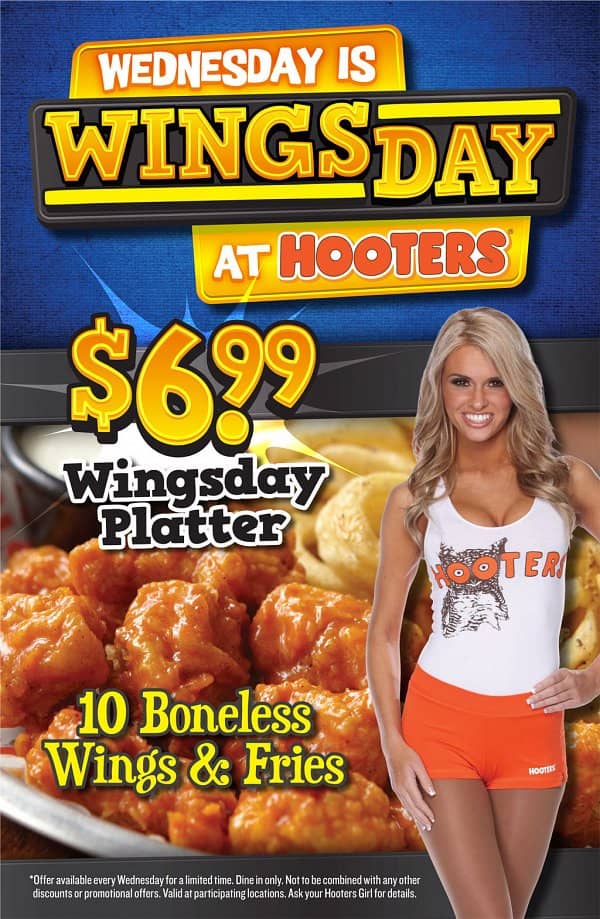 Hooters of America, LLC, today announced its decision to bring back the wing establishment's famous "Wingsday" Wednesday promotion due to popular demand. Beginning today, Hooters guests will once again enjoy their favorite Wednesday wings deal of 10 boneless wings and fries for just $6.99.

"Hooters is actively expanding its food and drink menu offering, but one dish that is here to stay is our world famous wings," said Dave Henninger, chief marketing officer, Hooters of America. "The Wingsday deal is another way for Hooters to deliver great value to our guests week after week with one of our most popular menu items."

The Wingsday deal is now available every Wednesday at the more than 355 Hooters restaurant locations across the United States.

From traditional buffalo sauce favorites, ranging in heat from mild to 911, to new signature sauces on select Hooters menus, such as teriyaki-style samurai, lemon pepper and chipotle honey, there is a Hooters wing sauce for every taste.

For more information about the Wingsday Wednesday promotion, please stop by your nearest Hooters location or visit www.hooters.com.
To find your nearest Hooters location, visit Hooters.com.