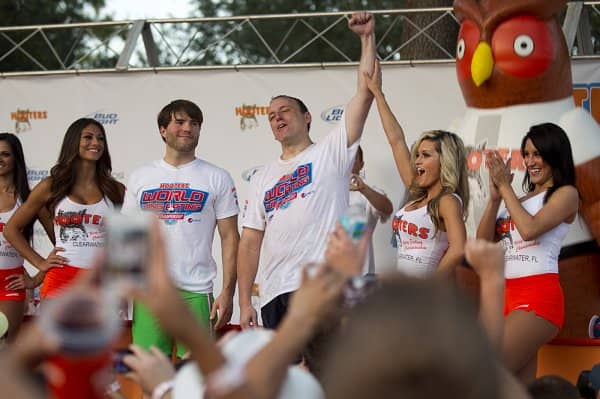 Hooters of America, LLC, today announced the kick-off of its second annual Hooters World Wing-Eating Championship. The national circuit of wing-eating contests will consist of five qualifying events in cities throughout the U.S., kicking off in Panama City, Fla., on Saturday, March 30. Joey Chestnut, the top competitive eater in the world and last year's Hooters World Wing-Eating Champion, will compete in the first qualifying event. The competition will culminate with a grand finale at the original Hooters of Clearwater, Fla., on Thursday, July 25, as part of a weekend celebration of National Chicken Wing Day.
Chicken wing eating is among the most demanding disciplines in the world. Hooters has elevated the competition through its wing-eating circuit, which attracts top amateur and professional eaters alike. Last year, undisputed world champion eater Joey Chestnut defeated long-time nemesis, Sonya Thomas, a 100-pound eating phenom, to earn the title Hooters World Wing-Eating Champion.
"The Hooters World Wing-Eating Championship pits the greatest eaters in the world against our delicious, world-famous Hooters wings," said Dave Henninger, chief marketing officer, Hooters of America. "We are proud to once again host this coast-to-coast tour that gives Hooters wing-lovers the opportunity to test their skills against Major League Eating superstars like reigning champion Joey Chestnut and Sonya Thomas."
The 2013 Hooters World Wing-Eating World Championship's first official tour stop will take place on March 30 in Panama City, Fla. A total of 12 eaters, both professional and amateur, take on Chestnut behind the competition table for the 10-minute, all-you-can-eat contest.
In addition to Panama City, Hooters will hold wing-eating contests in Augusta, Ga., on April 11; Terrell, Texas, on May 11 and Las Vegas on June 26. An additional city will be named at a later date and the championship event will take place in Clearwater, Fla., on July 25.
"Hooters is home to the world's most delicious chicken wings," said George Shea, Chairman of Major League Eating. "While each contest will feature Major League Eaters, this tour will once again help us find hidden wing-eating talent. We are searching for a yet-to-be-discovered champion athlete, a born eater with an intuitive understanding of the wing who can test Chestnut's dominance in the sport."
Major League Eating will register competitors at www.IFOCE.com. All competitors must be at least 21 years old.
About Major League Eating
Major League Eating (MLE), the world governing body of all stomach-centric sports, conducts more than 80 events annually, including the Nathan's Famous Fourth of July International Hot Dog Eating Contest in Coney Island, N.Y. and the CP Foods Biggest Eater Championship in Bangkok, Thailand. The competitive eating community is made up of more than 8,000 veteran and rookie gurgitators who travel the world in search of top titles and the glory that they provide. For more information, visit www.IFOCE.com, www.facebook.com/eatfast or twitter @eatingcontest.
To find your nearest Hooters location, visit Hooters.com.