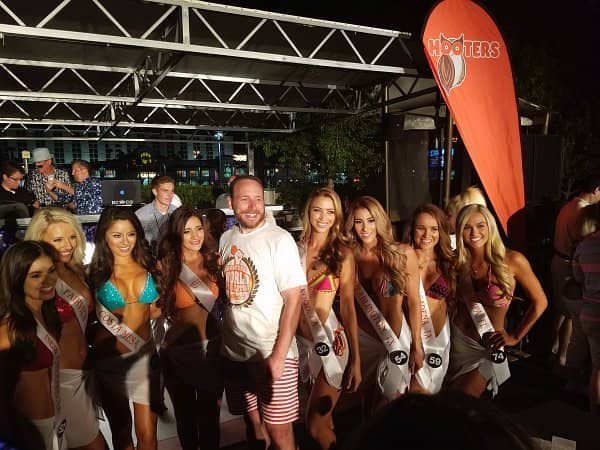 ATLANTA, GA – July 12, 2016 - Joey "Jaws" Chestnut reclaimed his title last night at the fifth annual Hooters Worldwide Wing Eating Championship, an officially sanctioned Major League Eating event. Having lost to fellow eater, Matt Stonie in last year's competition, Chestnut made a strong comeback by expertly devouring 194 Hooters world-famous chicken wings in 10 minutes to scoop first place. Chestnut's victory proves his dominance in professional wing eating, making this his fourth time to win the prestigious competition.
"It feels great to be back at the top of the Hooters Worldwide Wing Eating Championship, it's one of my favorite contests of the year. It was a little bit tough coming here right after the 4th of July, but it's great to show that [that win] wasn't a fluke and I was able to follow it up with a win at Hooters," said Chestnut. "This contest is just so fun, and I'm so happy to be here."
Chestnut now encourages wing lovers everywhere to visit Hooters on National Chicken Wing Day, July 29, from 11 a.m. to 4 p.m. and Chicken Wing Day Eve, July 28, to enjoy Hooters all-you-can-eat wings in celebration of America's favorite holiday. After you chew on it, Hooters is asking fans to step up to their duty as a wing lover – and an American – and help answer The Great Debate: are you a drumstick devotee or flat fanatic? Fans can vote at wingvote.com.
Hooters commissioned Major League Eating to officially sanction the fifth annual Hooters Worldwide Wing Eating Championship, held poolside at Palms Casino Resort in Las Vegas. The competition brought together 13 professionally-ranked eaters for a demanding test in endurance, jaw strength, hand speed and stomach capacity. Chestnut takes home the top cash prize of $8,500, along with bragging rights to the coveted world title. In total, $17,500 in cash prizes were awarded collectively among the top seven finishers – one of the largest purse prizes on the Major League Eating calendar.
2016 Hooters Worldwide Wing Eating Championship Results:
Joey "Jaws" Chestnut, San Jose, CA – 194 wings
Matt "The Megatoad" Stonie, San Jose, CA – 186 wings
Adrian Morgan, New Orleans, LA – 176 wings
Gideon Oji, Morrow, GA – 161 wings
Michelle Lesco, Tucson, AZ – 142 wings
Yasir Salem, New York, NY – 138 wings
Geoffrey Esper, Oxford, MA – 137 wings
Juan "More Bite" Rodriguez, Crestwood, IL – 136 wings
Juliet Lee, Germantown, MD – 126 wings
Josh Miller, Aurora, CO – 122 wings
Miki Sudo, Las Vegas, NV – 116 wings
Steve Hendry, Dixon, CA – 104 wings
Rich LeFevre, Henderson, NV – 90 wings
To learn more about Hooters Worldwide Wing Eating Championship visit www.majorleagueeating.com.
To find your local National Chicken Wing Day offers and vote, visit wingvote.com.
To find your nearest Hooters location, visit Hooters.com.