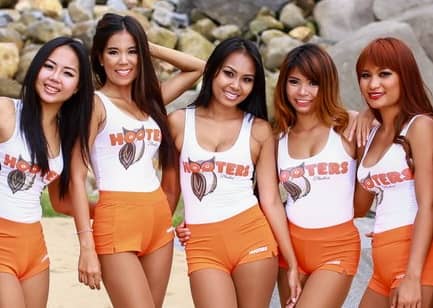 February 26, 2016 (Atlanta, GA) — Hooters today announced the opening of two new locations in Thailand, including Hooters of Pattaya, the largest international Hooters location. Located in the heart of Pattaya, a lively beach town approximately one hour from Bangkok's Suvarnabhumi Airport, Hooters of Pattaya features 3,300 square meters of contemporary space with two bars, 50 high-definition televisions, live music, pool tables, a mechanical bull named Ricardo and two outdoor patios where guests can relax and take in the scenic views.
The second new location, Hooters of Nana, features 630 square meters and seats 271 customers, boasting it's very own mechanical bull for customers (named Turbo) as well along with 21 high definition flat screens, DJs and pool tables right in the heart of the bustling Nana district of Sukhumvit.
"Destination Resorts has proven success with many restaurants in Thailand, and we're continuing to bolster our presence with the largest international Hooters and a new location in Bangkok," said Gary Murray, CEO, Destination Resorts Co. "These locations couldn't be better for the fun-loving Hooters restaurant concept, and we look forward to continued expansion for years to come."
The new locations are part of a 30-location Southeast Asia development agreement between Hooters and Bangkok-based international franchisee, Destination Resorts Co., Ltd., making Thailand the leader in Hooters Southeast Asia expansion efforts. Along with recent locations previously opened in Phuket and Bangkok, Hooters of Pattaya and Hooters of Nana will bolster Hooters presence in Thailand with four total locations.
Hooters of Pattaya will feature a "Wild West" theme restaurant, allowing locals and tourists to experience great fun, delicious food, world-famous chicken wings and unrivalled Hooters Girl hospitality.
"Opening the largest international Hooters location, situated in the heart of bustling Pattaya, signifies our commitment to continued expansion in Asia," said Mark Whittle, senior vice president of global development, Hooters of America, LLC. "Partners like Gary Murray and his talented team at Destination Resorts Co. make it possible to bring delicious food, iconic Hooters Girl service and an opportunity to 'escape the ordinary.'"
Hooters is continually opening restaurants and is actively seeking qualified franchise partners to open new locations in select markets across the U.S. and around the globe. For more information about becoming a Hooters franchisee, visit http://franchising.hooters.com.
To learn more about Hooters of Pattaya and Hooters of Nana, visit www.facebook.com/hooterspattaya or www.facebook.com/hootersbangkok or online at hootersasia.com.
About Destination Resorts Co., Ltd.
Headquartered in Bangkok, Thailand, Destination Resorts Co., Ltd., has a passion for creating innovative resort destinations that excite our guests. CEO Gary Murray remains on the forefront of setting new standards and trends in hospitality, while remaining committed to operating in ways that are both environmentally and socially responsible. Destination Resorts Co. created some of Thailand's most exciting destinations, including Hooters Phuket, DoubleTree Resort by Hilton Phuket – Surin Beach, DusitD2 Phuket Resort, Sri Racha International Golf at Sri Racha Hills, Hard Rock Café Phuket at Patong Beach, Novotel Phuket Karon Beach Resort & Spa, Novotel Hua Hin Cha Am Beach Resort & Spa, Swissotel Resort Phuket and Four Points by Sheraton Bangkok Sukhumvit 15. For more information about Destination Resorts Co., visit www.destination-properties.com.
To find your nearest Hooters location, visit Hooters.com.