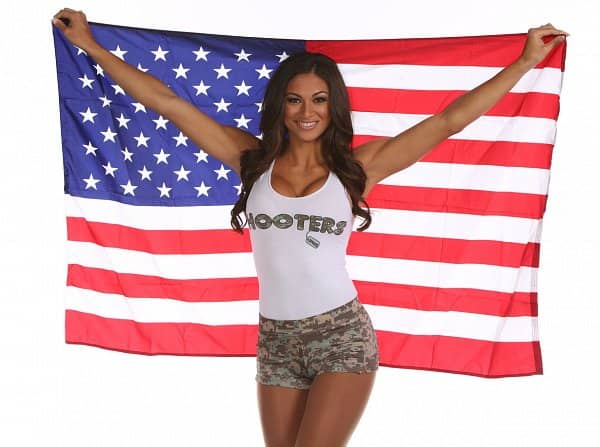 ATLANTA--(BUSINESS WIRE)--Hooters is saying thanks to the scores of active-duty and retired military nationwide this Veterans Day by inviting them to dine for free, on Tuesday, Nov. 11. All veterans and active-duty military personnel can enjoy an entrée on the house and some famous Hooters Girl hospitality by presenting a military ID or proof of service at any Hooters location across the country.
"For the past 30 years, we've been serving up Hooters world famous chicken wings to our nation's best and bravest," said Andrew Pudduck, vice president of marketing, Hooters. "Our servicemen and women deserve our genuine thanks, and we hope they'll join us this Veterans Day for a fun dining experience on the house, as a small token of our appreciation for their service. Dine with us and #LetFreedomWing!"
In addition to treating military to a free meal, Hooters wants guests to send some extra love to the troops overseas through its annual Operations Calendar Drop program. The 2015 Hooters Calendar, featuring fitness model and 2014 Miss Hooters International Janet Layug on the cover, is now available for guests to purchase and personalize with a message of appreciation to the troops. Hooters will collect the personalized calendars and deliver them to U.S. military stationed overseas.
Hooters' support for the military community spans decades and has resulted in hundreds of thousands of dollars raised for non-profit military organizations. Everyone is invited to share photos of their Veterans Day visit to Hooters via Facebook, Instagram and Twitter with the #LetFreedomWing hashtag. The best moments will be featured on the Hooters Instagram page.
Veterans and active-duty military can choose from a variety of entrees, including salads, sandwiches, seafood dishes and other delicious options. Of course, Hooters continues to offer its world-famous traditional and boneless chicken wings with buffalo sauce favorites, ranging in heat from mild to 911, as well as signature sauces and rubs on select Hooters menus, such as teriyaki-style samurai, lemon pepper and chipotle honey.
The complimentary Veterans Day entrée, up to a $10.99 value with any drink purchase, can be redeemed during business hours on Veterans Day, Nov. 11, at any of the 345 Hooters locations across the U.S. There is no coupon required to activate the deal, veterans and military personnel just need to present a military ID or proof of service to their Hooters Girl while dining in at their favorite location.
For a complete list of Hooters locations and additional information regarding the Veterans Day deal, visit www.hooters.com. For more information about the 2015 Hooters Calendar and Operation Calendar Drop, visit www.HootersCalendar.com.
To find your nearest Hooters location, visit Hooters.com.