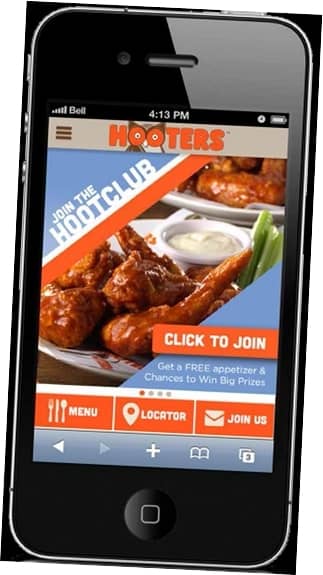 ATLANTA--(BUSINESS WIRE)--Thanks to his passion for Hooters world-famous chicken wings, Benjamin Boudreaux of Houma, Louisiana, scored the latest in home entertainment technology. As the Hooters HootClub HDTV Sweepstakes grand prize winner, Boudreaux won an 84-inch class LG Ultra High Definition 4K television. Boudreaux took part in the promotion through the iconic wing joint's mobile loyalty app, HootClub, which launched earlier this year. He was enjoying a Hooters Chicken Strip Cheese sandwich at his local Hooters of Houma when he was notified that he was the winner of the grand prize valued at nearly $16,000.
"My local Hooters of Houma is one of my favorite places to eat and catch a game because I know I'm guaranteed a fun visit, every time," said Boudreaux, HootClub member and loyal Hooters fan. "I thought HootClub was great to track my visits and earn rewards—but I'd never imagined that I would win such an awesome grand prize! It was fitting that I was actually eating at Hooters when I found out that I had won."
After an initial pilot in the Atlanta market, the HootClub app was made available nationally at 189 Hooters locations in July. The program enables Hooters to communicate more effectively with guests and cater to their personal preferences by offering customized discounts, rewards and promotions. Boudreaux, a regular guest at the Hooters of Houma, uses the app to earn rewards on his favorite food and drink items, stay up-to-date on the latest events at Hooters and register for sweepstakes to win awesome prizes!
"HootClub is all about rewarding our die-hard fans, and good things happen to those who love Hooters!" said Andrew Pudduck, vice president of marketing, Hooters of America. "Congratulations to Benjamin on winning this sweet, ultra HDTV. We're looking forward to rewarding even more HootClub members as we get closer to postseason football, could you be next?"
Prizes and customer rewards are offered regularly to HootClub members, and this is the third HootClub Sweepstakes grand prize awarded this year. In May, Roswell, Georgia, local Robert Boettcher won the first HootClub sweepstakes prize, an all-expense paid trip for two to Las Vegas to watch the UFC 173 fight live. Lucky winner, Cedric Walker, from Macon, Georgia, won an honorary seat as a judge at the 2014 Hooters International Swimsuit Pageant in Las Vegas in July.
The HootClub mobile app is free to download on Google Play, the iPhone® App StoreSM or by visiting www.hooters.com/qr on a mobile phone browser.
To find your nearest Hooters location, visit Hooters.com.