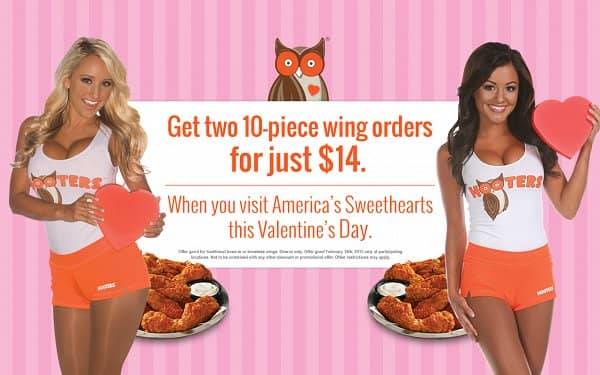 ATLANTA — Hooters invites everyone to feel the love this Valentine's Day with a swoon-worthy deal on its world-famous chicken wings. Whether you're wingin' it solo or two birds-of-a-feather, on Saturday, Feb. 14, all guests can enjoy two 10-piece orders of delicious Hooters wings for just $14.
"With their warm smiles and welcoming Hooters Girl hospitality, who better to spend your Valentine's Day with than America's Sweethearts in orange?" said Andrew Pudduck, vice president of marketing, Hooters of America. "Whether it's for our legendary chicken wings or superior service, we encourage our wing lovers to skip the starch-white table cloths and indulge in a delicious meal and relaxing environment. What's not to love at Hooters?"
Hooters guests have their pick of Hooters world-famous traditional or boneless chicken wings with buffalo sauce favorites, ranging in heat from mild to 911, as well as signature sauces and rubs on select Hooters menus, such as teriyaki-style samurai, lemon pepper and chipotle honey. Let the wing love-fest commence with any of Hooters craveable appetizers, from hand-breaded fried pickles to creamy buffalo chicken dip and Southwestern-style Tex Mex Nachos.
The Hooters Valentine's Day deal is available at participating Hooters locations across the United States. There is no coupon required to redeem this attractive offer (although declaring your love for Hooters would be great!), Hooters fans just need to dine in at their favorite location. The two 10-piece wing deal, a $14 value, can be redeemed during business hours on Valentine's Day, Saturday, Feb. 14. Deal cannot be combined with any other discount or promotional offer.
To find your nearest Hooters location, visit Hooters.com.