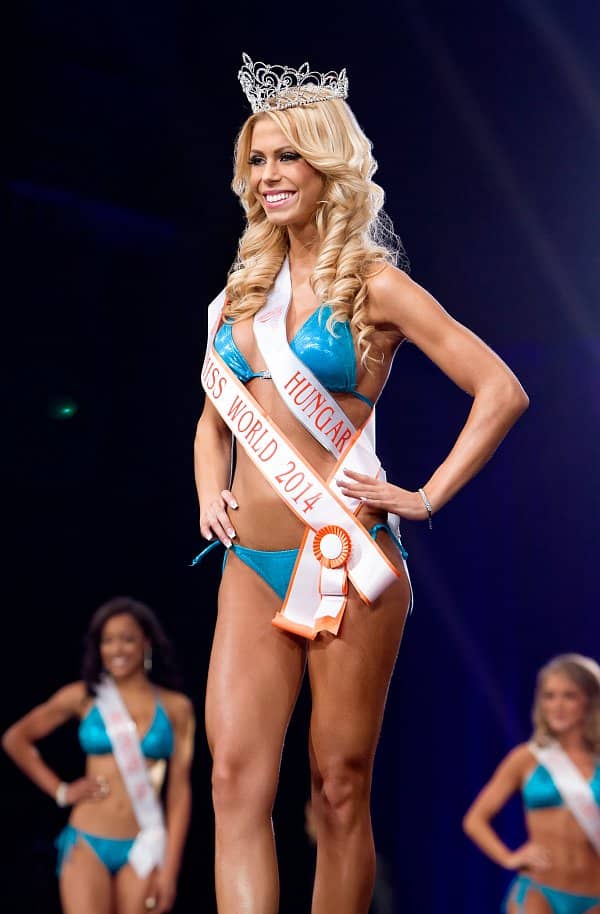 ATLANTA, GA – Hooters today announced Hungarian-native Nikolett Szollath as Miss Hooters World 2014. Szollath earned the title during the 18th annual Hooters International Swimsuit Pageant held at the Hard Rock Hotel and Casino in Las Vegas last week.
A 22-year-old native of Budapest, Hungary, Szollath has worked at the Hooters of Budapest (Chanticleer Holdings, Inc. NASDAQ: HOTR) for the past two years. She is currently a student at Budapest University of Technology and Economics and teaches a children's aerobics class. She also spends her spare time volunteering with local organizations like the Budapest Children's Hospital and Goodwill of Hungary. In addition to winning Miss Hooters World, Szollath placed among the top 10 Hooters Girl finalists in the pageant.
As Miss Hooters World, Szollath will represent Hooters growing global presence in more than 24 international markets. She will also have the opportunity to serve as a brand ambassador, host events and support other Hooters marketing initiatives.
The pageant contestants were selected from more than 18,000 Hooters Girls who presently work in one of the more than 400 Hooters locations worldwide. They each competed in local and regional swimsuit contests for one of the 100 coveted spots in the 18th annual Hooters International Swimsuit Pageant.
Janet Layug from the Hooters of North Lakeland, Florida, took home the crown as Miss Hooters International 2014. The rest of the top five Hooters Girl contestants include first runner up Rachel Mundwiller, Hooters of Springfield, Missouri; second runner up Meagan Pastorchik, Hooters of North Charleston, South Carolina; third runner up Ashley Dill, Hooters of Chattanooga, Tennessee; and fourth runner up, Sable Robbert, Hooters of Fort Lauderdale, Florida.
Rounding out the top 10 in alphabetical order is Brianna Ramos, Hooters of North Arlington, Texas; Jasmin Pena, Hooters of Richmond, Virginia; Nikolett Szollath, Hooters of Budapest, Hungary; Pamela Jean Noble, Hooters of Ontario, California; and Tyler Suess, Hooters of Rockford, Illinois.
In addition to the Miss Hooters International spot, several Hooters Girls went home with a new 2014 title, including Miss Congeniality Brittany Harris, representing Hooters of Pasadena, Texas; and Miss Photogenic Taylor Reyes, representing Hooters of Bakersfield, California.
The Miss Hooters Social award, along with a $2,000 cash prize and spot to compete with the top 10 Hooters Girl finalists, went to Aneta Kowal, representing Hooters of Troy, Michigan. For the second year, Hooters incorporated a "Miss Hooters Social" contest into the pageant—a digital race to see which contestant could generate the most social media activity leading up to the event. Votes were cast via Facebook, Twitter and the new Hooters HootClub mobile app.
A panel of celebrity judges attended the 2014 Hooters International Swimsuit Pageant and included retired American Light Heavyweight Ultimate Fighting Championship (UFC®) fighter and UFC Hall of Famer, Stephan Bonnar; "Deadliest Catch" documentary series star, Captain Sig Hansen; former Hooters Dream Girl and supermodel, Rachel Mortenson; Original Hooters Girl, Playboy model and actress, Lynne Austin; number one ranked professional Major League Eater and three-time Hooters World Wing Eating Champion Joey Chestnut; Hooters HootClub sweepstakes winner, Cedric Walker; former U.S. Marine and President of Patriot One, Mike Dodd; and Medal of Honor recipient, Sgt. Dakota Meyer.
For behind-the-scenes pageant photos and contestant information, visit http://pageant.hooters.com. For members of the media interested in photos of the Hooters International Swimsuit Pageant, visit the multimedia download section of the Hooters newsroom, or to schedule an interview with any contestant, make a request through the press contact page.
To find your nearest Hooters location, visit Hooters.com.